Allan Pettersson
the composer and his work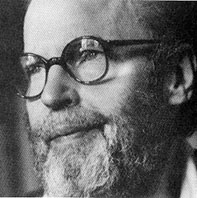 1911 Born on 19th September in the Västra Ryd parish of the Uppland, Sweden. Childhood in in the slums of Stockholm
1930-1939 Study at the Royal Conservatory of Music in Stockholm
1939-1940 Study of viola with Maurice Vieux in Paris
1951-1953 Study of composition with René Leibowitz and Arthur Honegger in Paris
1966-1967 Composition of the Seventh Symphony
1968 Triumphant premiere of the Seventh Symphony on 13th October, with the Stockholm Philharmonic Orchestra conducted by Antal Dorati
1980 Death on 20th June.
Allan Pettersson is considered in Anglo-Saxon countries has the greatest Swedish composer, and is one of the few great composers of symphonies of the XXth century, with Gustav Mahler or Dimitri Shostakovich.
Nevertheless, twenty years after his death, his work is rarely played and remain unknown outside Northern Europe and the USA.
Despite Allan Pettersson was successfully revealed to the public by the world famous conductor Antal Dorati, many circumstances throughout his life prevented him to get a wider recognition.
To a miserable childhood and a dark temper was added from the early 50's and in a very painful way in the 60's a rheumatoid arthritis that stiffened, deformed and progressively destroyed his joints, until he was left totally crippled.
Deeply troubled by his childhood in a sordid neighbourhood of Stockholm, raised by a never sober father and a pietistic mother, he achieved thanks to his fighty spirit to become what he aimed to be, a composer with a universal message.
He expressed in his music, 17 symphonies, 3 concertos for soloist and orchestra, 3 concertos for orchestra, 2 song cycles and some chamber music, the rage of living of anonymous and oppressed people, and his compassion for their fate.
In order to get wide recognition, Allan Pettersson had to overcome two main obstacles.
- The first one was the apprehension of the public for highly emotional and humanly committed works, occasionally physically enormously demanding for the orchestra, conductor and audience. This is not the case for all Pettersson's works, but it is obviously for masterpieces such as the Thirteenth Symphony composed in 1976 (67' in Alun Francis' recording) or the Violin Concerto n°2 composed in 1977 (56' Haendel/Blomstedt's recording).
- The second obstacle was scepticism from musical critics towards the symphonic genre, which was considered as dead since World War II. Fifty years since this time, dogmatism is almost dead as well in western countries, and this could help Allan Pettersson symphonies.
Two quotes from the composer help in giving some light on the background of the Symphony.
- In 1968, shortly after its composition, Allan Pettersson wrote to Leif Aare, its only friend and biographer (published in Nutida Musik), with his direct style : "The mankind today is a little boy starving on this earth, right now, and the music nowadays, it is the moaning of this child in this fair for vultures. This is what has been done by the adult man, the fatty and twisted man".
- The most frequently quoted sentence from the composer applies closely as well to the Seventh Symphony, work full of fight and song : "The music forming my work is my own life, its blessing, its curses : in order to rediscover the song once sung by the soul".
Discography of Allan Pettersson's symphonies although still recent is already fine, thanks to remarkable conductors such as Antal Dorati or Alun Francis, or even highly inspired such as Thomas Sanderling in the Eight Symphony (CPO) or Sergiu Comissiona in the Seventh Symphony (Caprice).
The Seventh Symphony has been recorded four times from 1967 to 2000.
The pioneer version by Antal Dorati in 1969 with the Stockholm Philharmonic Orchestra is worth listening, as the work is treated as a classical great work. A historical recording, which still remains a good second choice nowadays.
The analytic Gerd Albrecht's recording in 1991 with the Hamburg Philharmonic Orchestra gives to the listener unusually detailed and interesting alloys of sounds, but this is not enough for making it an outstanding version.
The teeming conductor Leif Segerstam is usually very honest when conducting Pettersson's music, and his recording in 1992 with the Norrköping Symphonic Orchestra is in line with this statement.
The listener looking for what is generally considered as the best recording will consider the version by the Romanian conductor Sergiu Comissiona in 1990 with the Swedish Radio Orchestra. The sound and the orchestra are not among the finest you could dream of, but you will find what counts : spirit and dream-like atmosphere from the beginning to the end.
Leif Aare, the friend and biographer of the composer, who produced a very interesting documentary on Pettersson for the Swedish television, considers that Sergiu Comissiona gives in this recording an "almost sensational" interpretation, in which "he breaks down the barriers around structures that may seem to be rigid. His treatment of the material is primarily musical, he keeps a plastically flowing tempo. He does not hesitate to expose the archetypes of death to life's warm currents of air and translucent lyricism."
Jean-Luc Caron, President of the French Carl-Nielsen Association, agrees to see this interpretation as the best ever recorded.
The complete video of this recording has been made available by some Pettersson's enthusiast on Youtube.
For those who have become enthusiasts after having discovered the Seventh Symphony and want to listen to other pieces, five works are highly recommended :
- 2nd Violin Concerto by Isabelle van Keulen conducted par Thomas Dausgaard (CPO). This work embodies best the qualities of Pettersson's music. Starting with a first half hour of struggle between the soloist and the orchestra, like a painting of the fight of the individual against the society, it goes on with a magnificent song of reconciliation alla Bach. This recording recorded in 1999 but only released in 2007, was celebrated by the French magazines Classica-Repertoire (10 Classica-Répertoire) and ResMusica.com (Clef ResMusica - view the article)
- Eighth Symphony by Thomas Sanderling (CPO), which is closest to the Seventh. Precise and poetic interpretation.
- Third and Fourth Symphonies, by Alun Francis (CPO), more concise and less lyrical than Sixth to Ninth Symphonies, Pettersson appears in the works as a master in composition. Excellent recordings.
- Sixth Symphony, by Manfred Trojan (CPO). It is a demanding work lasting more than 60 minutes. The dark and desperate tone of the work , where life seems to be about to surrender during the last 30 minutes (!), deserves to be discovered by trained listeners of Pettersson's music. Manfred Trojan could obviously get more from the Symphony, but the interpretation is nevertheless impressive.
Allan Pettersson Society, Sweden
International Allan Pettersson Society, Germany
Biography and analysis of some symphonies on Classical.net
Hans van Eck and Norbert Wissing are dutch composers who are both interested in Pettersson. They have brought a new instrumentation for small ensemble of five songs from the Barefoot Songs cycle (Barfotasanger), whose first performance has been given on the 16th of May 2001, in the kleine zaal of the Amsterdam Concertgebouw, Julia Bronkhorst singing. You will find the live recording on their website, and the full score is also available for free! About Music in Words, they wrote "we think it's a good initiative in bringing music to the people" (31th December 2000).